For some reason I think it would be fun if I rehashed the things I enjoyed during the past month. I know I'm a bit late here, but better late than never, right? So let's begin.
TS 1989: I'll admit it. I was skeptical. I would never have described myself as a diehard Taylor Swift fan at any point in my life. But then, this album happened. And boy, did it happen. Apologies to my coworkers and family, but I just cannot get enough of this.
Yes, it's girly. Yes, it's poppy. That's something fundamental to Taylor's style that's not going to change any time soon. But there's honestly something very different and… mature about this album. It reminds me of when Beyoncé's eponymous album was released in December 2013 (under what amounts to the shadow of night) and one review I read said something to the effect of, "it's as if Beyoncé is finally okay with everybody knowing that she has sex." And there it is! That's what this album feels like to me. There's a sense of finding and relaxing into herself that I get from it, and I am here. for. it. Judge your mom.
Favourite tracks: Welcome to New York, Wildest Dreams, I Know Places, New Romantics*
* available on the Deluxe edition
The Brief and Wondrous Life of Oscar Wao by Junot Díaz: At the beginning of the year, I reinstated my long defunct Goodreads account and vowed to put in some serious reading. Like many people, textbooks kind of ruined casual reading for me. I used to be voracious. I could tell you a story about how I plowed through the Harry Potter series in lieu of studying for GSAT back in my day (that's the entire story, really). I could tell you another story about how I bought the final book in Miami International the day after it came out and finished over half of it before I even landed in Chicago (again, that's the entire story). I'm basically having a quarter life crisis and trying to relive the glory days of my youth. For old times' sake, y'know?
That's enough digression.
The book tells the life story of, in case the title wasn't apparent enough, a guy named Oscar Wao. He's of Dominican heritage, living in New York with his mother and sister. He's kind of socially awkward and something of an outcast for a few reasons: he has darker skin than most Dominicans (outcast), and a cornerstone of what makes a man a 'man' is how much sexing he gets under his belt (virginal outcast). His heritage is, in fact, persistently denied by other voices throughout the book; he can't really be Dominican because he hasn't had sex. The fact that his indulgence in science fiction borders on obsession, he's consumed with writing and publishing his own book, and his penchant for casually throwing large words into simple sentences does little to help him with this. Nevertheless, Oscar is a lovable and amusing character. I love the way this book was written, but more specifically, how Junot Díaz writes. Some parts history lesson, the book was largely conversational, using the voices of different characters to paint a picture, all these factors culminating to show you how Oscar came to exist as he did. I also quite enjoyed the use of Spanish, interspersed throughout the book. Pure, un-italicised Spanish. There's been some debate (and criticism) about whether Spanish should or shouldn't be italicised. I'm of the opinion that it shouldn't, as, to me, it takes away from the natural flow of the text. Daniel José Older explains this perspective much more succinctly than I ever could, here.
Overall, I really enjoyed reading this. I had strong feelings of wanting to reread This Is How You Lose Her, another great novel by Junot Díaz.
Nicka K Hydro Care Lip Balm: Natasha and I visited a new beauty supply store that recently opened in Liguanea, and came across these beauties. I was initially drawn to them because of their design: beautiful, ergonomic packaging in lovely pastels (though, let's be honest, they do look a little like they might be something else).
Why not? I said, and purchased a tube on a whim. Consensus: these lip balms are amazing. Infused with shea butter, they're easily the most hydrating lip balm I've ever used, and I've sampled quite a few lip balms in my day. They come in the flavours: mint, cherry, lemon, apple, and strawberry (my favourite is mint). I've gone through an entire tube in a month. They smell so good! Would definitely repurchase without a moment's hesitation.
OKF Aloe Vera King Drink in Mango: This has been my thing since the beginning of the year. I don't drink soda much, and sometimes water gets boring. If you're weirded out by unexpected textures, then this may not be for you: there are tiny bits of aloe vera floating around in it, and I'm told it's good for you. Plus, it's got vitamins, it's refreshing, and yummy! What more could you want? Nothing. You want nothing more.
Other flavours I would recommend are: Gold Kiwi, Pomegranate, Strawberry, Raspberry. Acai Berry has a kind of chocolate-y quality to it that might not be for everyone. Be warned: original (with no added fruit flavour), though refreshing, is not for the faint of heart.
Japanese Fried Chicken: It's an experience. A wholly delicious, practically spiritual experience. That's all I have to say.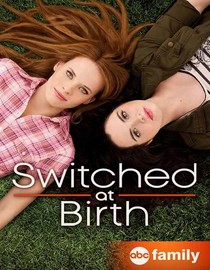 Switched at Birth: Okay, I know you can see that ABC Family logo on this picture, and I know you're probably already rolling your eyes. But hear me out. I started watching this show last month, largely because all my usual shows were still on break, and I needed something to fill the giant, gaping hole in my life. Enter this show. Yes, it's a teen drama. But with a twist!
So the story is this: it starts off with this girl named Bay (yes, her name is really Bay. It was endlessly amusing to hear people exasperatingly say her name at the beginning and end of sentences), who belongs to a wealthy family in the Midwest. As teenagers are wont to do, Bay feels like she doesn't belong in her family, and is always searching for an explanation as to why that is (you're a teenager, Bay! Teenagers do that! [see? The Bay thing is fun, right?]). Granted, her suspicions are not unfounded: her entire family is red-headed with lightly coloured eyes, and she's got dark hair and brown eyes.
One day inher Biology class, they're learning about the different blood types and doing blood testing, and she comes home and announces to her family what her blood type is (AB). Her father says that it's impossible, because everyone in the family is A or O. Nevertheless, this fuels her I don't belong fire, and she finally encourages her parents to have their blood tested against hers, because something's just not right. Lo and behold, as you have probably guessed by now, she is not their biological daughter. Shock! Horror! Gasp! Are you sure this is a family show?
Eventually, they find their biological daughter, whose name is Daphne. She lives in a dilapidated part of town with her Hispanic mother and grandmother. And the twist? Daphne is deaf, and has been for almost her entire life, following a brush with meningitis when she was a baby. The show chronicles the discovery of the switch, and how these two families from different worlds try to blend their very different lives for the sake of Bay and Daphne. It's almost like Romeo and Juliet, except there are two Juliets with no romantic inclination towards each other whatsoever, and who find out they're sisters in a complicated kind of way. (So not like Romeo and Juliet at all.)
I've been captivated by it because it's so interesting; I've never seen anything that gave me some insight into what life might be like for someone who is deaf or hard of hearing. The show covers a number of important topics near and dear to my heart, and offers a perspective on life not many people have considered, which, overall, are fantastic learning opportunities for its target audience of teens and young adults.
—–
That's it for my February Favourites! I can't promise I'll do this every month, but I can certainly make an effort to.